Speed Freaks USA
»
Carbotech Performance Brakes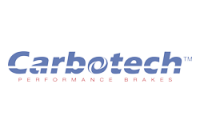 Carbotech Performance Brakes utilize true race compounds that are "rotor friendly," eliminating the grabbing and locking up that keep so many drivers and race cars from performing at their peak. You want to go deep to gain those precious fractions of a second before you need to brake, and only Carbotech brakes let you do just that. In every turn, all race long.
---
Carbotech Performance Brakes Categories
---
---
More About
Carbotech Performance Brakes
In 1993, a dedicated group of racers and engineers got together to take braking technology to the next level. Brakes that put them consistently in the winner's circle. The result was Carbotech Performance Brakes, with a unique brake pad technology that today is used by demanding pro racers, club racers, tuners and law enforcement agencies across the country with stellar results.
Carbotech Brakes utilize a unique ceramic and metallic construction in a range of compounds that outperform other brakes. Carbotech Brake compounds deliver higher torque and fade resistance, as well as consistent brake modulation and performance over a wide range of operating temperatures. Carbotech Brakes are rotor friendly, saving money and keeping your vehicle out of the service shop far longer that the competition.