Speed Freaks USA
»
Megan Racing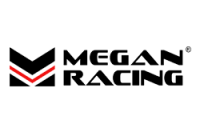 Since its inception in 2001, Megan Racing Inc. has always stuck with the same goals and principles that have carried its name throughout the years. Megan Racing was founded on the belief that the goal of the automotive enthusiast should not be limited by the size of ones wallet, but rather on their heart and passion for motor-sports. The spirit of competition has been around for the last century and continues to live within each enthusiast today. That same spirit led the founder of Megan Racing to seek out a way of manufacturing quality performance parts while having them affordable for the grassroots enthusiast. The Megan Racing staff prides itself on maintaining the original company goals of performance, design, and economical prices that will allow Megan Racing and their dealers to grow for many years to come.
---
Megan Racing Categories
---
---
More About
Megan Racing
As any track-driver can tell you, the rigors of a race day will push the limits of both the driver as well as the machine, and this is where we vow to be with you through the performance and quality of our products. Over time, Megan Racing has been able to develop a broad product line touching the most important aspects of performance. Each product is tested vigorously in our in-house facilities and in controlled-variable scenarios. Taking one step further, Megan Racing knew that community input was the final key to developing the perfect product. Seeking out the most active members of the racing community who offered both real-world as well as on-track testing, Megan Racing maintains its key interest to keep the community involved in every aspect of the development, testing and production of each product. Over time, through sponsorship of individual drivers, teams and competition organizers, Megan Racing has kept a deep involvement with the racing community to receive feedback from the community first-hand and have developed a strong bond with our family of enthusiasts who bear our logo on the track and on the street. Many enthusiasts are aware of our development team by name through providing track-side support at many track events and many garages across the country. Each and every day our staff and development team corresponds with our sponsored drivers to ensure that our products have kept them on the podium not just the first time, but every time.