Speed Freaks USA
»
OMP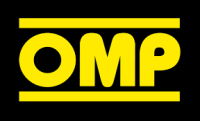 OMP first started in a small town near Genoa, Italy when three brothers began manufacturing roll cages and racing accessories to gain an edge over the competition in 1973. Fast forward to present times and OMP is a world leader in the manufacturing of safety equipment and tuning accessories. OMP has formed close relationships with widely celebrated race teams and drivers in Formula1, IndyCar, IMSA, WRC, NASCAR, and many others - that has helped them create the essential research and development to be one of the most advanced processes in the industry. OMP has risen to the top of the industry, adding several new parts and products to their racing line.
---
OMP Categories
---
OMP
Products
Description:
Seat with black gel-coated shell. Perforated shell to enhance seat and back breathability built-in, padded head restraint high profile side bolsters for increased lateral support upholstered in...
More Details »
Description:
Quick release hub to be bolted in aluminum with 6 holes. Compatible with 3 or 6 holes steering wheel. Recommended to be use PTFE dry lube to get the best performance and preserve all components....
More Details »