Speed Freaks USA
»
Magnaflow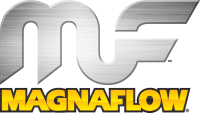 MagnaFlow is a market leader and uses the best available components and latest technology to ensure the highest levels of performance. MagnaFlow is home to several in-ground dynamometers, multiple flow benches, and a host of highly sensitive sound testing equipment to ensure that every part passes stringing quality and performance standards before manufacturing. Each muffler from MagnaFlow is created to give you the best sound possible and is designed to have a highly efficient straight through design with a perforated stainless steel core, mesh wrap and acoustical fiber full packed tightly to give you that legendary smooth, deep tone without any sound degradation.
---
Magnaflow Categories
---
Magnaflow
Products
Description:
CARB Compliant OEM S2000 Catalytic Converter (Direct Fit). All California State Catalytic converters are CARB compliant. Keep the check engine light off with MagnaFlow California Grade CARB...
More Details »