Speed Freaks USA
»
COBB Tuning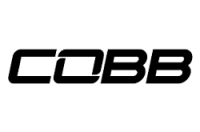 COBB Tuning is an automotive engineering company dedicated to developing solutions that improve vehicle performance and the driving experience. COBB Tuning approaches design by taking the entire vehicle-platform into account as a complete system. Our ultra-high-quality products and services are professionally engineered, thoroughly tested and backed by industry leading customer service to ensure that they meet our objectives and exceed customer expectations.
---
Browse Exhaust
Products
Description:
These high-flow, mandrel-bent, 304-stainless downpipes remove the restrictive stock catalytic converters for better flow, faster turbo-spool and improved transient response. This downpipe kit is a...
More Details »
Description:
The catted version of the COBB 3.5-inch SS Y-Pipe uses custom-spun high-flow metal substrate catalytic converters that improve flow while protecting the environment by reducing emissions.
Description:
COBB Tuning is pleased to announce the 3.5-inch Stainless Steel Y-Pipe for the Nissan GT-R. The stock y-pipe with factory catalytic converters is a restrictive element in the GT-R's exhaust system....
More Details »