Speed Freaks USA
»
Ferodo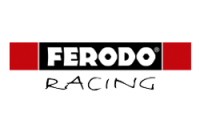 Founded in England in 1897, Ferodo invented friction materials in their modern form. Production takes place within the plant in a specialised racing cell and the pads are subjected to the tighest quality checks. New materials are developed by specialists in racing formulation, aided by a prototype and pilot production plant and 6 dynamometers for product validation and refinement. In 2005, this technical expertise has enabled Ferodo to move into siloxane technology and DS1.11 material is amongst the world's first inorganic racing materials. All these specialised resources described above will continue to ensure that Ferodo will remain at the forefront of innovation and expertise in racing for years to come.
---
Browse F40
Products
Description:
The DS1.11 is one of Ferodo's latest race pad offerings. It has slightly less bite at high temps. vs the DS3000, but doesn't decompose nearly as quickly under extended heavy use on the track. The...
More Details »
Free FedEx / UPS Ground Shipping!
Description:
Ferodo's DS2500 racing brake pads represent a new generation of friction material that's low in compressibility, ensuring a firm pedal while providing great disc and pad life. These pads were...
More Details »
Free FedEx / UPS Ground Shipping!