Speed Freaks USA
»
Motion Control Suspension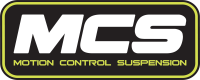 Motion Control Suspension (MCS) has over 50 years of experience in the racing suspension industry. We have created one of the most advanced, reliable, and race winning suspension systems in the market today. MCS has a broad range of damper systems available, ranging from a single adjustable system, to a triple adjustable system with remote reservoirs. No matter which MCS system you choose, you can expect to achieve faster lap times, better tire wear, and a system that will grow with you as both driver and car progress.
---
Browse Featured Vehicles
Products
Description:
The MCS 2-Way damper is far from basic. This damper set features a full 18 clicks of compression adjustment and 18 clicks of rebound adjustment over a wide range, specific to each vehicle's...
More Details »